Faculty
The following faculty on the University of Arkansas campus have expressed interest in gerontology issues. Contact individual faculty members using the contact information below.
Ro Di Brezzo, Kinesiology - Exercise Science
rdibrezz@uark.edu
Dr. Di Brezzo is the Vice Provost for Faculty Development.
Alishia Ferguson, Social Work
ajfergus@uark.edu
Inza L. Fort, Emeritus Faculty, Kinesiology - Exercise Science
ifort@uark.edu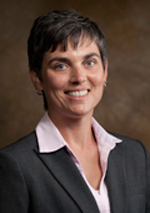 Michelle Gray, Kinesiology - Exercise Science
rgray@uark.edu
Dr. Michelle Gray serves as a co-director of the Office for Studies on Aging. She is an associate professor of exercise science and also is the director of the University of Arkansas Exercise Science Research Center. The aim of Dr. Gray's research is to increase functional fitness and independence among older adults. She does this through community-based exercise programs focusing on improving muscular power and strength.
Jean Henry, Public Health
ljehnry@uark.edu
Barbara B. Shadden, Emeritus Faculty, Communication Disorders
bshadde@uark.edu
As co-director of the Office for Studies on Aging, Dr. Shadden is involved in interdisciplinary research on many topics in collaboration with other faculty on campus. Her individual research focus is communication by/with older adults, discourse characteristics of communication and the psychosocial consequences of stroke/aphasia.
Jennifer Webb,